Sreenidhi International School boasts impressive campus facilities. It is situated on lush 60-acre campus in the outskirts of the city of Hyderabad, India's fastest growing centre for enterprise, technology and innovation.
The school campus takes advantage of the natural environment by seamlessly blending vegetation and beautifully designed low-lying buildings. The clean air and soothing impact of nature gives the campus a feeling of serenity.
All classrooms enjoy ample natural light and space to accommodate student activities as individuals or in groups. State of the art library, language, science, arts, audio-visual and technology facilities support an inquiry-based and cutting edge curriculum.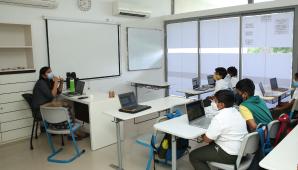 The sports facilities benefit from the massive campus and include: cricket pitch and nets, football (soccer) pitches, swimming pool, and basketball, badminton, squash, and tennis courts.
Sreenidhi is a community that learns and celebrates together, and the outdoor amphitheatre is the perfect place to enjoy performances and achievements.