Sreenidhi International School awards a 'High School Diploma' to its students after completing 4 years of course with the school and achieving at least 24 credits. Sreenidhi International School is accredited by NEASC (New England Association of Schools and Colleges). The criteria required to be awarded the Sreenidhi High School Diploma meet the standards of NEASC. The High School Diploma is valid for application to any university as it is recognized by universities worldwide as well as in India through the Association of Indian Universities (AIU).
Students earn credits for the courses they have taken at Sreenidhi. The school follows the IB Curriculum (MYP and DP). Achievement of at least 24 credits is required to be eligible for the Sreenidhi High School Diploma.
The table below specifies the credit requirements
Additional Courses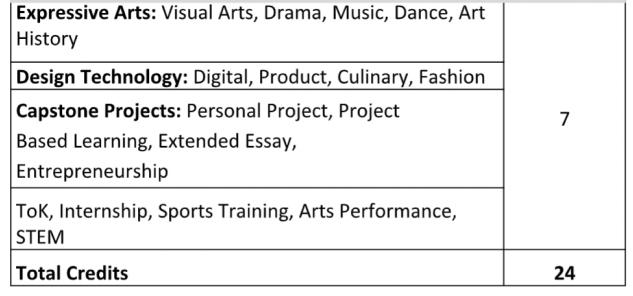 Course credits are earned by students by following the academic policy of the school. Students in grade 9 and 10 are required to follow the MYP. Grade 11 and 12 students follow the IB Diploma or Courses programme.
Every student at Sreenidhi is eligible for the Sreenidhi High School Diploma.
Sreenidhi High School Diploma – graduation criteria
To qualify for the Sreenidhi High School Diploma, students must:
Meet the minimum requirements for promotion to Grade 11 when, by the end of Grade 10, he or she has completed all the requirements of the MYP in all subjects and has successfully completed an MYP Personal Project.
Satisfy the minimum requirement of 24 academic credits.
Successfully complete the service as action programme in Grade 9 and 10, and successfully complete the CAS programme in Grade 11 and 12.
Obtain a credit by receiving an overall grade of three or above for the school year while attending a minimum of 80% of the classes. This requirement may be waived at the discretion of the Head of School under exceptional circumstances only (e.g. severe ill- health, sports commitments).
Have a minimum of 6 subjects studied in each of Grade 9 and 10.
Have a Minimum of 5 subjects studied in each of Grade 11 and 12
Transfer students have their previous transcript/school reports verified and appropriate credits are awarded (but not stated on Sreenidhi transcript).
The Head of School has the authority to accept credits for courses in which a student received passing grades from schools where transfer students previously attended and apply them toward Sreenidhi High School diploma requirements.
The Head of School also has the authority to waive certain course requirements for transfer students on a case-by-case basis. This policy recognizes that transfer students are not always given the opportunity to take courses in all of the core content areas required by Sreenidhi High School diploma.